Can Vitamin C protect you against Covid-19?
Malaysia began its road towards recovery by entering Movement Control Order Phase 4. As Malaysian returns to the workplace, there will be a new normal of reduced activity, active social distancing and wariness of the possibility of second wave.
For the world to return to how it used to be, there needs to be a vaccine for Covid-19. But according to the World Health Organization (WHO), it could take up to 18 months for the first Covid-19 vaccines to be made publicly available. In the absent of drug and vaccine against Covid-19 virus, you are left with practical preventive measures such as practice proper hygiene, practice social distancing and boost your immune system. After all, your immune system is the most effective forms of defense against viral infections.
One immune boosting agent that gained headlines during Covid-19 pandemic is none other than Vitamin C. The social media is buzzing with news that the usage of high dose intravenous (IV) of Vitamin C in the fight against Covid-19 viruses. Apparently, a clinical trial is under way in Wuhan, China to determine the potential benefit of Vitamin C on patients with Covid-19, but results have not yet been published1.
How does Vitamin C benefit Covid-19 patients? What can you learn from it?
According to research, 80% of people after infected with Covid-19 will only suffer mild symptoms2.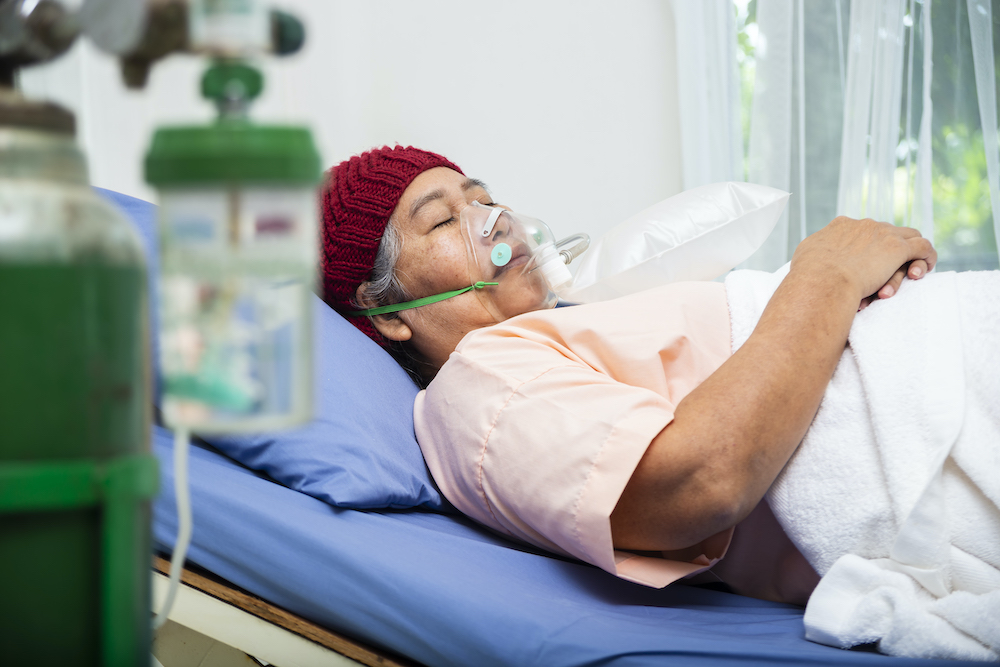 Others may require hospitalization—but for some patients, the new coronavirus can be deadly. One life-threatening complication that can arise is acute respiratory distress syndrome, commonly referred to as Acute Respiratory Distress Syndrome (ARDS). New research from the JAMA Internal Medicine suggests that more than 40% of individuals in the study hospitalized for severe and critical Covid-19 developed ARDS—and over 50% of those diagnosed died from the disease2.
Like influenza, coronaviruses are pandemic viruses that injure lung drastically3. This viral infection generates a "storm" of cytokines that reacts with the endothelial cells of the lung leading to severe lung damage. Treatment using intravenous (IV) Vitamin C helps to develop a stronger immune system response, reduce the cytokines storm via its antioxidant properties and may increase antiviral activities4.
It is important to understand Vitamin C cannot prevent or cure Covid-19. But having Vitamin C in your body system may help you to fight better during a virus attack. Study show 80% of people likely to suffer only mild symptoms and may not aware of the on-going battle within their body. Hence, having Vitamin C ever ready in your system is essential.
As Covid-19 pandemic continues to grip our lives, keep yourself and your family safe by practicing good hygiene, social distancing and adding Vitamin C into your daily diet. Nature's Way offers 3 different types of Vitamin C suitable for each member of your family. It is your time-saving and affordable solution to increase Vitamin C for you and your family. Get them today via our retail stores or online stores!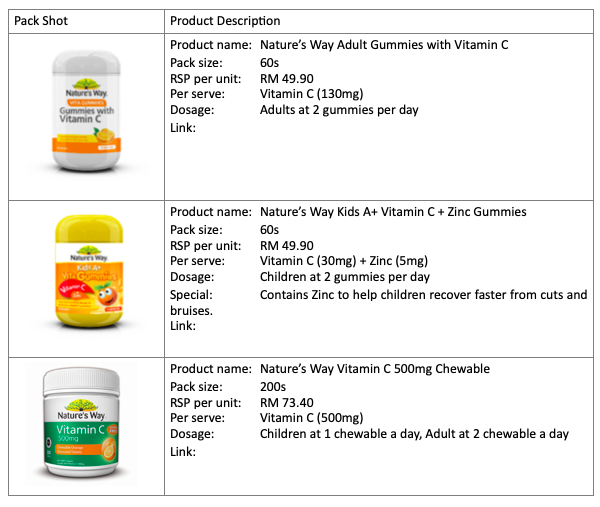 This is for informational and entertainment purposes only and is not a substitute for medical advice, diagnosis or treatment. If you have any medical problem always first consult with your physician. The information in this story is accurate as of press time. However, as the situation surrounding COVID-19 continues to evolve, there is possibility some data have changed since publication. We encourage readers to stay informed on news and recommendations regarding Covid-19 pandemic.
References:
Vitamin C Infusion for the Treatment Of Severe 2019-ncov Infected Pneumonia – Full Text View https://clinicaltrials.gov/ct2/show/NCT04264533.
Wu, C., Chen, X., Cai, Y., Xia, J. A., Zhou, X., Xu, S., … Song, Y. (2020). Risk Factors Associated with Acute Respiratory Distress Syndrome and Death in Patients With Coronavirus Disease 2019 Pneumonia in Wuhan, China. JAMA Internal Medicine. doi: 10.1001/jamainternmed.2020.0994.
Iii, A. A. F., Kim, C., Lepler, L., Malhotra, R., Debesa, O., Natarajan, R., … Kasirajan, V. (2017). Intravenous vitamin C as adjunctive therapy for enterovirus/rhinovirus induced acute respiratory distress syndrome. World Journal of Critical Care Medicine, 6(1), 85. doi: 10.5492/wjccm.v6.i1.85 .
Boretti, A., & Banik, B. K. (2020). Intravenous vitamin C for reduction of cytokines storm in acute respiratory distress syndrome. PharmaNutrition, 12, 100190. doi: 10.1016/j.phanu.2020.100190.
Tags: